First Ice Contest 2015-16 – Lake Simcoe Message Board
Brought to you by:
Welcome to the 2015-16 Lake Simcoe Message Board First Ice Contest
It's that time again. Time when lakesimcoemessageboard.com members predicted what no meteorologist could possibly do. They will predicted (guess)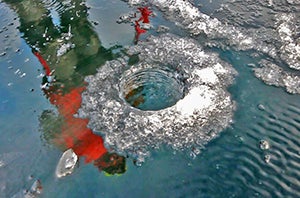 when we will have 4 inches of clear black ice on three locations. The map below shows the locations on Lake Simcoe and Lake Couchiching. You can track our progress on this page and see our ice tests on our You Tube Ice Test Videos here
Here are the rules;
1)   Contestants must predict all three locations. The person with the lowest number of points wins. A point system has been implemented where points are added for each wrong day. Example: a contestant starts with "0" for each location. If the contestant guess say December 30 as the first date and the actual date with 4 inches is on December 29 one day before or 31 one day after, one point will be added. If the prediction is two days off,(2) points will be added. The one with the least number of points wins.
2)   Members must be in good standing and be a member as of the date the contest ends.
3)   Each member is allowed (1) entry. Any member with more than one entry using more than one user name will be  disqualified.
4)   In the event of a tie the member who predicted the dates first will win.
5)   If a member changes their prediction dates the last entry date will be used as the official entry date.
6)   Any member can change their prediction date one time. The way to change the date is to edit your reply leaving your original predictions and adding your new prediction below the original.
7)   Time on the Water Canada reserves the right to change refuse any entry and to change rules that they deem reasonable to improve the contest.
Enter the contest here
Check the depths of the locations at Navionics Web Apps
 
Tudhope
 
Cooks Bay
Oro 7th
 
5weigh
Dec.30
7
Jan.6
16
Jan.12
23
Argoman

Jan.9

3

Jan.16

6

Feb.4

12

21
Autowrench
Dec.29
8
Dec.29
24
Dec.29
32
baydreamer
Dec.27
10
Jan.2
20
Jan.7
30
BB
Dec.18
21
Jan.5
17
Feb.3
38
Beanstir
Dec.27
10
Jan.12
10
Jan.25
20
Bentauger

Jan.10

4

Jan.18

4

Feb.1

15

23
billie
Jan.3
3
Jan.10
12
Jan.28
15
birdbuff
Jan.12
6
Jan.16
6
Jan.21
12
Brent Cotton
Jan.4
2
Jan.15
7
Jan.27
9
Brons 7
Dec.30
7
Dec.27
26
Jan.10
33
BugEyes

Jan.15

9

Jan.25

3

Feb.15

1

13
Canliq
Dec.24
13
Dec.30
23
Jan.5
36
Captain Steve
Dec.31
6
Jan.8
14
Jan.1
20
casacrow
Jan.2
4
Jan.4
18
Jan.7
22
Catcherman
Dec.22
15
Dec.27
26
Jan.11
41
Cavan Catcher
Jan.7
1
Jan.4
18
Jan.16
19
Centerspin
Dec.19
17
Dec.25
29
Jan.2
46
Choppa
Dec.28
9
Jan.3
19
Jan.8
28
Chrismarkz
Dec.15
21
Jan.7
15
Jan.13
36
Costa
Dec.29
8
Jan.5
17
Jan.14
25
Crappieperchhunter
Dec.23
14
Dec.27
26
Jan.10
40
dan668
Jan.2
4
Jan.8
14
Jan.16
18
dana
Dec.23
14
Dec.27
26
Jan.4
40
db1
Dec.20
17
Jan.4
20
Jan.14
37
Dinky
Jan.6
0
Jan.8
16
Jan.10
16
Drifter2k

Jan.4

2

Jan.18

4

Jan.21

25

31
efka

Jan.8

2

Jan.24

2

Jan.28

18

22
El Pescadore
Jan.4
2
Jan.12
10
Feb.1
12
ennismoretrout

Jan.9

3

Jan.16

6

Jan.30

16

25
Farnee
Jan.3
3
Jan.7
15
Jan.15
18
Fish Fin-atic
Dec.27
10
Jan.3
19
Jan.11
29
Fish4Dinner
Dec.28
9
Jan.5
17
Jan.12
26
Fish-awn

Jan.9

3

Jan.20

2

Feb.4

12

17
Fisherman
Dec.26
11
Dec.28
25
Jan.11
36
fisherman2202
Dec.28
9
Jan.1
21
Jan.14
30
fishermandan
Dec.20
16
Dec.28
25
Jan.15
41
fishermon
Dec.27
10
Dec.29
24
Jan.12
34
Fishfood
Dec.29
8
Jan.12
10
Jan.29
18
Fishfreek
Dec.18
18
Dec.27
26
Jan.4
44
Fishing Rod
Jan.4
2
Dec.26
27
Jan.13
29
fishinggod
Jan.3
3
Dec.23
30
Jan.7
33
Fore Play
Dec.23
14
Jan.4
18
Jan.8
32
franken
Dec.22
15
Dec.27
26
Jan.7
41
Frodo
Jan.2
4
Jan.6
16
Jan.15
20
fubar79
Jan.11
5
Jan.15
7
Jan.21
12
Fuzzy Old Worm
Dec.31
6
Jan.1
21
Jan.11
27
Gard11

Jan.14

8

Jan.22

0

Jan.29

18

26
Gaston The Guide
Dec.20
17
Dec.26
28
Jan.19
45
Geeman
Dec.30
7
Jan.7
15
Jan.15
22
Goby Dick
Jan.8
2
Jan.5
17
Jan.6
19
Gordo2
Jan.2
4
Jan.4
18
Jan.8
22
Grandpa Jim
Dec.27
10
Dec.29
25
Jan.20
35
grandpafish
Jan.8
2
Jan.14
8
Jan.23
10
hoppy

Jan.12

6

Jan.15

7

Feb.5

11

24
Horseshoe
Dec.19
18
Dec.29
25
Jan.12
43
Hudson
Dec.21
16
Dec.29
25
Jan.10
41
Ice Dog
Jan.2
4
Jan.8
14
Jan.12
18
IFIDA
Jan.1
5
Jan.8
14
Jan.15
19
JAFO
Jan.15
9
Jan.20
2
Jan.31
11
Jake Trout
Dec.20
17
Dec.24
29
Jan.3
46
James Gignac
Jan.15
9
Jan.21
1
Jan.30
10

[email protected]

Jan.7
1
Jan.10
12
Jan.19
13
J-M
Dec.29
8
Jan.6
16
Jan.15
24
johnwltf
Dec.31
6
Jan.1
21
Jan.7
27
Julia1
Jan.4
2
Jan.9
13
Jan.21
15
Justin Girard
Dec.29
8
Jan.2
20
Jan.12
28
jveri
Dec.22
15
Dec.31
23
Jan.10
38
Kaas
Dec.27
11
Dec.30
24
Jan.5
35
katiem
Jan.5
1
Jan.12
10
Jan.28
11
Ken
Dec.28
9
Jan.2
20
Jan.31
29
Kerz
Jan.8
2
Jan.13
9
Jan.31
11
Lastcast
Dec.28
9
Jan.2
20
Jan.12
29
Lemmer
Dec.23
14
Dec.27
27
Jan.9
41
Leo
Jan.10
4
Jan.18
4
Jan.20
8
LeonLund
Jan.2
4
Jan.6
16
Jan.12
20
Littlefish
Dec.24
13
Jan.7
15
Jan.12
28
Love 2 Fish
Dec.24
13
Dec.28
25
Jan.4
38
LoveToFishMan
Jan.15
9
Jan.18
4
Jan.21
13
Lukasaurus
Dec.29
8
Jan.10
12
Jan.17
20
Madmike
Dec.24
13
Dec.31
23
Jan.10
36
majorwipeout
Dec.28
9
Jan.3
19
Jan.15
28
Maksutt
Dec.21
16
Dec.31
23
Dec.25
39
mark198216
Jan.4
2
Jan.10
12
Jan.15
14
matty26
Jan.9
3
Jan.15
7
Jan.28
10
mbhunter
Jan.15
9
Jan.16
6
Jan.21
15
mebad
Jan.3
3
Jan.10
12
Jan.17
15
Meelosh
Jan.15
9
Jan.10
12
Jan.18
21
Michael Kerwin
Dec.30
7
Jan.7
15
Jan.18
22
Mike1212
Jan.2
4
Jan.10
12
Jan.19
16
Moonman
Dec.25
11
Dec.28
26
Jan.6
37
Mrbeee
Dec.28
9
Jan.2
20
Jan.14
29
MuskyChaser
Jan.1
5
Dec.29
25
Jan.10
30
Nado
Dec.28
9
Dec.29
25
Jan.9
34
Northerner
Dec.30
8
Jan.7
15
Jan.14
23
Olmasterbaiter
Dec.28
9
Jan.4
18
Jan.15
27
Overtime
Dec.21
16
Dec.29
25
Jan.16
41
panterwill
Jan.4
2
Jan.9
13
Jan.21
15
Papabum
Jan.5
1
Jan.1
21
Jan.10
22
Petek
Dec.28
9
Jan.1
21
Jan.9
30
phoenix
Dec.30
7
Jan.4
18
Jan.8
25
piercer
Dec.21
16
Jan.7
15
Jan.19
31
pikeprowler
Dec.31
6
Jan.7
15
Jan.22
21
poundthem

Jan.8

2

Jan.18

4

Jan.24

22

28
quickflip2
Dec.27
10
Dec.30
24
Jan.10
34
quickme
Dec.23
14
Dec.29
25
Jan.2
39
randaller
Dec.26
11
Dec.28
26
Jan.9
37
ratherboutdoors

Jan.4

2

Jan.14

8

Feb.1

15

25
rayray89
Jan.5
1
Dec.29
25
Jan.10
26
rickster
Dec.29
8
Jan.8
14
Jan.13
22
Rlave

Jan.5

1

Jan.13

9

Feb.5

11

21
Rob Cassey
Jan.14
8
Jan.19
3
Jan.28
11
Rockfish
Dec.29
8
Jan.1
21
Jan.7
29
ROFF
Dec.29
8
Jan.7
15
Jan.17
23
rollinn
Dec.22
15
Dec.27
27
Jan.9
42
scotty mcd
Dec.27
10
Jan.2
20
Jan.10
30
Seuin Fisher
Dec.22
15
Jan.4
18
Jan.15
33
SIBB
Dec.31
6
Jan.5
17
Jan.12
23
sirfishalot
Dec.28
9
Jan.3
18
Jan.12
27
slushbed
Jan.3
3
Jan.8
14
Jan.17
17
Steve Rowbotham
Dec.23
14
Dec.29
25
Jan.10
39
SteveL
Dec.18
19
Dec.29
25
Jan.10
44
super dave
Dec.29
8
Jan.4
18
Jan.10
26
tdarius
Dec.20
17
Dec.25
29
Dec.29
46
Tech
Jan.6
0
Jan.16
6
Jan.9
6
Thinlips

Dec.28

9

Jan.11

11

Feb.12

4

24
Thumbtack
Dec.29
8
Jan.7
15
Jan.14
23
tinmanba
Dec.30
7
Dec.30
24
Jan.4
31
tonyb
Jan.2
4
Jan.8
14
Jan.13
18
Toothhealer88
Dec.28
9
Jan.3
19
Jan.1
28
torontofish89
Dec.23
14
Dec.30
24
Jan.7
38
Tubedude
Jan.12
6
Jan.15
7
Jan.17
13
TundraRoy
Jan.3
3
Jan.17
5
Jan.26
8
VanSlyke
Dec.22
15
Dec.29
25
Jan.7
40
VB
Dec.28
9
Dec.29
25
Jan.5
34
wabler
Dec.27
10
Jan.5
17
Jan.13
27
wake
Jan.5
1
Jan.10
12
Jan.15
13
Wall-eyed
Dec.30
7
Jan.6
16
Jan.26
23
Waltron
Dec.29
8
Jan.12
10
Jan.19
18
Wanna be fisherman
Dec.21
16
Dec.26
28
Jan.3
44
Whatthefish
Jan.15
9
Jan.26
4
Feb.2
13
Woodie54
Dec.24
13
Dec.28
26
Jan.9
39
xiaolu
Dec.29
8
Jan.5
17
Jan.14
25
xxgoaler
Dec.31
6
Jan.5
17
Jan.12
23
ytjigger

Jan.12

6

Jan.22

0

Feb.4

12

18
zzguffy901
Jan.3
3
Jan.8
14
Jan.19
17